REVIEWS

CABARET Scenes
Seven Brinberg
Date: April 2011
Click here to acces a PDF file of this article:
Simply Barbra (Tour - Salford)
Date Reviewed: 4 July 2011
WOS Rating: ****
Venue: The Lowry
Where: Salford


Barbra Streisand impersonators are a dime a dozen, women dress as her, men dress as her and she is always a routine at one of the various cabaret nights around the world. However, Steve Brinberg is something quite extraordinary, whilst many look like her, he has the voice to boot and that's what makes Simply Barbra simply irresistible.
The show is simple, it features Barbra, her piano player and a microphone. Brinberg sings the songs that all Streisand fans will love whilst adding a touch of humour and wit to proceedings when he talks to the audience as his alter ego, often poking fun (but lovingly) at some of her more famous personality traits.
His voice is quite remarkable, often you can hear the diva herself coming out (and we were happy he invited along his friends such as Cher and Bette Davis who he also voiced) Audiences eat up every second as if the real diva - Steisand herself is in the room.
As someone who is not the biggest fan of the legend I was surprised at how much I enjoyed the show, the music is great but its Brinberg's sly nods and winks that really sell the show. The humour is helped along by his straight faced delivery (including a particularly funny moment involving the show Annie). If that's enough to keep the fans happy he even duets, with himself, in a moment of sheer brilliance.
It's easy to see why Brinberg is one of the most successful Barbra impersonators around. His talent, excellent stage presence and sheer love for the icon shine through, it's his obvious passion that makes the show a unique and rather wonderful celebration of all things Babs.
- Craig Hepworth

What's on Stage
Brief Encounter With … Simply Barbra (aka Steve Brinberg)
Date: 30 October 2009
US born Steve Brinberg makes a living out of performing as someone else; the legendary Barbra Streisand. With Babs' new album "Love Is The Answer" currently on sale, and her recent interview with Jonathan Ross gaining huge ratings, what better time to catch up with Simply Barbra, the affectionately performed act that is so good, even Ms Streisand herself approves. We caught up with Steve before his 'one night only' performance at the Lowry in Salford in December.

How did you start out as performer?
I have tapes of myself at 2 singing...but I didn't really start performing until college. Didn't even realise I could sing..I had always sung along to recordings..in the voice of the person I was singing as!
What gave you the idea to base an act on Barbra Streisand?
I had been doing a cabaret as myself and within that act I did snippets of other voices..Cher, Katharine Hepburn, Julie Andrews etc. Barbra was one of them..and proved so popular that the owner of the club suggested I do a whole act as her. I was reluctant..not knowing anything about makeup and such but I figured I'd try it for a few weeks and see where it went......that was in the 90's!!
What does Ms Streisand herself think of your show?
For years I had heard that she had seen me on TV, watched videos etc. but it was confirmed one year ago when her manager hired me to sing at her best friend Donna Karan's birthday party....through her stage director she actually gave me some lines to say and everything. So it's great to have her seal of approval.
Do you have a favourite song on the new album and why?
My favorite song on the new album is "Here's To Life." I remember when it was first recorded (in 1992 by Shirley Horn) it was a favorite of a dear friend, who passed away soon after. It's very emotional on many levels. And Barbra sings it beautifully. Some people don't know that the composer Artie Butler also wrote the theme song to her film For Pete's Sake which I've also performed and which Barbra never released as a record. That song is a bouncy little thing..Artie has quite a range...and so does Barbra!
What do you like about performing in the UK?
Well it's great just to spend time there...I have a lot of friends in the UK now. And any chance to see theatre is exciting..as well as cities I have never seen or performed in before. And of course sticky toffee pudding and Yorkshire pudding are my favorites unavailable in any edible form in the US!
How do audiences here differ from those in the US?
Contrary to popular belief I think the UK audiences are actually MORE demonstrative than at home. Perhaps because Barbra is more revered there than at home or something. I did a show in Pennsylvania recently and someone in the crowd after said they were reticent about laughing at my humor cause of the staid room etc. In the UK people laugh with abandon.
What are you doing for Christmas?
What most Jews including Barbra do: going to the movies and having Chinese food!
What have you got lined up next after the tour?
Coming up so far in 2010 are dates in Florida, Chicago, Indianapolis....another concert with Marvin Hamlisch (in Connecticut) and some more Australian dates. And hopefully later on, some more in my beloved UK!
Steve Brinberg was speaking to Glenn Meads
Simply Barbra is at the Lowry on Sun, 6th December. For more details, visit the Lowry website or Steve Brinberg's website.
Adelaide Cabaret Festival
Simply Barbra
Adelaide Now
June 07, 2009 11:30pm
FROM the moment New York's Steven Brinberg stepped onto stage at the Banquet Room, star power flooded through the intimate venue.
However, this was not simply because Brinberg was emulating all-time great Barbra Streisand but rather, due to his commanding stage presence and breathtaking vocal command.
It doesn't matter that he's from New York, is male and is a Streisand impressionist - what mattered was that in a little over an hour, Brinberg delivered one entertaining moment after another regardless of your affinity for Barbra Streisand's back catalogue.
Affectionately playing homage to Streisand's rumoured quirks and mimicking with perfection several of the award-winning singer's traits, Brinberg showcased a vocal range in a league of its own.
Special mention also goes to fellow Cabaret Festival act Nick Christo who was nervously pulled onstage for a duo which threw the spotlight on his talent but also delightfully complemented Brinberg's comedic ability and timing.
Despite having to weather late arrivals - perhaps symptomatic of a festival opening night - Brinberg was the consummate professional, never once slipping out of character and consistently entertaining.
Adelaide Cabaret Festival
Simply Barbra

Review written by Vito Mattarelli
Australian Stage Online
Saturday, 06 June 2009

The Adelaide Cabaret Festival started with a bang on the opening weekend with an all-star gala performance hosted by Julia Morris. It was fitting therefore, that two of the Festival's leading ladies - Ms Bernadette Peters and Ms Barbra Streisand performed the gala's prime spots.
Opening the Festival and gala was the rare return to Australia by the biggest supernova of them all - Barbra - who wowed the Festival Theatre's capacity crowd with two numbers, before exiting the stage and dashing to the Banquet Room to perform Simply Barbra.
Simply Barbra (created and performed by New Yorker Steven Brinberg) is an ever-evolving tribute to the life and recordings of one of the most recognisable voices of our time.
Having performed Barbra for over a decade, Brinberg knows his subject extremely well, satirising her vocal abilities and dominant personality to great effect. However, it is the subtle mannerisms and constant asides, so cleverly executed, that leave their mark.
The show's many highlights included some of Barbra's most famous hits such as Don't Rain on My Parade (described as from her most most recent Broadway musical Funny Girl - over 40 years ago), Evergreen (from A Star is Born) The Way He Makes me Feel (from Yentl) and a version of Memories (from The Way We Were) which begins with the song version not used in the film.
Every Simply Barbra performance includes a special guest appearance - opening night's guest was rising Australian performer Nick
Christo performing (well trying to) a duet version of Over the Rainbow, which was very funny. Later in the show, Barbra evoked the vocal styles of a list of legendary divas performing Sondheim's classic I'm Still Here.
In a remarkable display of vocal dexterity, Brinberg, as Barbra, showcased the likes of Eartha Kitt, Lena Horne, Cher, Bea Arthur, an hilarious Bette Davis and Carol Channing.
Superbly accompanied by Christopher Denny on piano, Simply Barbra is a must for any Streisand fan, but also a wonderful showcase for the talents of Mr Brinberg.
The Adelaide Cabaret Festival continues until 20 June. Simply Barbra will also be performing in Sydney in June.
The Times
October 30, 2008

Steven Brinberg: Simply Barbra at Shaw Theatre, NW1
Clive Davis
*** (3 stars)
You could say his show is simply one long in-joke, but it is a very good joke all the same. Steven Brinberg's homage to La Streisand avoids the usual temptations of camp excess, and instead homes in on the small details that add up to a droll portrait of an artist who is now almost as famous for her control freakery as her singing.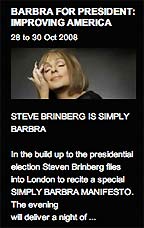 The presidential election gives the American actor some extra openings, although in truth the satire is fairly restrained. We all know which party Babs, that lifelong Democrat, will be cheering on next week. Brinberg is content to fire off a few gentle shots at the opposition and invites his guest, Gay Soper, to deliver a brief but energetic musical impersonation of the Republicans' new queen of Alaska.

The heart of the show, as ever, lies in the acute dissection of Streisand's tics and mannerisms. Brinberg wisely makes no attempt to imitate that turbocharged voice in full flow; what he captures are the quieter moments from the ballads, the sighs, the knowing sobs and the self-conscious anecdotes. He twists the knife, but always with a gentle smile. In contrast to the remorselessly choreographed show Streisand brought to Europe last year, he allows us a glimpse of authentic flesh and blood.

Nathan Martin returns to his role as the quietly authoritative pianist and musical director, and on the opening night Brinberg had fun performing coy duets with two young singers, Leon Lopez and Shimi Goodman. Some of the intimacy was lost in the broader spaces of the Shaw, but Brinberg's timing and store of self-deprecating one-liners kept the evening moving at a comfortable tempo.

Towards the end, on I'm Still Here, he reprised some of his uncannily accurate impersonations of other singers, while his re-creation of Streisand's duet with Neil Diamond on You Don't Bring Me Flowers remains a model of comic understatement.
Link to original Times OnLine article


Steven Brinberg – Simply Barbara
The Rrazz Room
August 29, 2008
Last year I put this homage show in my Top Ten list mainly on the strength of Brinberg's striking vocal resemblance to Streisand and for the delicious wit with which he skewers the object of his affection. This time around I'm still impressed and even a little vocal restraint on some expected big numbers (possibly due to jet lag) couldn't diminish the overall effect of his witty and astute recreation of La Babs. All the hits are included in the set list: 'The Way We Were', 'Don't Rain on My Parade', 'Evergreen', 'My Man', 'People', and 'Happy Days' all sung with remarkable mimicry. Brinberg has a lovely instrument keeps the not-so-subtle jibes as Streisand over-the-top public image flowing in hilarious between song banter.

Most amazing are the non-Streisand material Brinberg inserts to "his/her" act: a haunting version of 'Another Winter in a Summer Town' from "Grey Gardens", a funny 'Kids' from "Bye Bye Birdie", and Stephen Sondheim's witty 'I'm Still Here' which gives Brinberg the opportunity to sing a verse as a host of other singers including spot on impersonations of: Eartha Kitt, Kate Hepburn, Bette Davis, Peggy Lee, Ethel Merman, Lena Horne, Bea Arthur and even Fran Dreshcher.

Brinberg's "Simply Barbara" succeeds on all levels – those who dare a man to look, act and sing like a female star leave pleased and those who love the comic deconstruction of an icon are satiated. It's all great fun wrapped in delicious artistry.

Steve Murray
Cabaret Scenes
August 29, 2008
[ top ]
---

Steven Brinberg
Simply Barbra!
65th Birthday International Tour!
Empire Plush Room
Impersonation is a tricky animal. Whether one thinks of it as a kind of carnival side show or true art is argued heatedly. We go hoping to be amazed or to snicker through a car crash of misguided homagery.
Steve Brinberg's Simply Barbra starts out smart. The piano overture, the darkened empty stage, and then the voice. It's Barbra alright - the intonation, the inflection, the purity. And she makes her entrance - yup, the look is right as well - the choker, the black sequenced pant suit, the hair, and those nails (she makes a raptor envious!). It's vintage Babs from the late '60s early '70s.
Any chance the show may take itself too seriously are quickly alleviated with a simply hand gesture to move the hair from her face - the audience howls and we know we're in for a send up. It's a natural to poke fun at La Streisand; the control freak issues, the snootiness, the many, many references to her movies and albums. Brinberg's show is well written, the banter witty and expertly delivered. But it's the voice that blows me away. A two time Mac and Bistro award winner, Brinberg has the voice down pat. He's got her phrasing, the breathiness, the exquisite control. Streisand's big numbers are included: On A Clear Day, People, The Way We Were - crowd-pleasers all. I particularly admired her inclusion of a subtle The Nearness of You, a beautifully sweet The Way He Makes Me Feel from Yenty [sic] and a fantastic Send in the Clowns. Not a big Barbra fan myself (I prefer Rosalyn Kind to Babs) Brinberg's show is Streisand subdued and natural. He mocks her affectedness, but doesn't sing that way unless he's making a point.
I'm Still Here gives Brinberg the opportunity to show off his innate knack for impersonation when he alternately sings verses as: Eartha Kitt, Lena Horne, Fran Drescher, Bea Arthur, Billy Holiday, Bette Davis, Betty Buckley, Kate Hepburn, Carol Channing and others. Pretty impressive stuff. Don't Rain on My Parade gets the full Streisand pizzazz. Newcomer Judy Butterfield (a Judy Garland interpreter) made a guest appearance to join in the famous Get Happy/Happy Days duet from the Judy Garland show circa 1964. For the encore, there's Barbra/Brinberg doing a duet with himself as Neil Diamond in You Don't Bring Me Flowers. The evening was a complete surprise and a complete joy. Simply Barbra is Simply Phenomenal!
Steve Murray
Cabaret Scenes
August 25, 2007
[ top ]
---
First Night reviews
The Times September 18, 2006
Cabaret

Simply Barbra
Clive Davis at Too2Much, W1
**** (4 stars)

Assuming you prefer not to remortgage the house in order to buy a ticket for Barbra Streisand's next farewell tour, a soirée with Steven Brinberg is definitely the next best thing. Yes, I can already hear your objections: isn't there something just a little too, well, camp about the idea of a man impersonating the world's most precious diva?

Well, in normal circumstances, that would be true. Camp too often becomes an excuse for woefully untalented acts to pretend that they are the funniest thing since La Cage Aux Folles. (Yes, I mean you, Kiki & Herb.) But the New Yorker Steven Brinberg understands that while it's easy to send up La Streisand's foibles, making her seem human (or at least almost human) and getting the voice right is no mean feat.

Having seen him before, in the much smaller surroundings of the Jermyn Street Theatre, I wondered whether the joke would still seem fresh several years later. The answer is an emphatic yes. The faded glamour of Too2Much — which occupies the former premises of the Raymond Revue Bar — is well suited to the louche, cocktail-hour mood of the show. (Any upright reader of The Times who can make it past the Soho fleshpot attractions and through the door without looking furtive surely deserves a year's free subscription.)

Accompanied by the pianist Nathan Martin, Brinberg eschews Grand Guignol and focuses on the tiny gestures — the delicate flutter of a hand, the faux-humble sighs — that are an essential part of the superstar's armoury. This is a woman who suffers private-jet-lag when she flies the Atlantic. And while it's fair to say that no one could capture Streisand's arena-bursting vocals at full blast, Brinberg offers an uncannily accurate version of her low-key ballads. The jokes are wonderfully understated, and even though Streisand's husband, James Brolin, once again comes in for constant mockery, there is a constant undertow of affection. In a funny sort of way, Brinberg is the best press agent Streisand has ever had.

Continues Wednesday to Saturday. The Lowry, Salford Quays, Sept 18,
and Norwich Playhouse, Sept 26.

http://entertainment.timesonline.co.uk/article/0,,14936-2360449.html

[ top ]
---
Simply Barbra
Swathed in a filmy sequinned two-piece and nails that would be better suited to a mandarin potentate, Steven Brinberg makes a fairly workaday Barbra Streisand. The look is fancy dress stuff, instantly recognisable as the diva without overstating. What raises Brinberg's impersonation from the ordinary is his uncanny ability to truly capture Streisand's vocal mannerisms in speech and song. Often exaggerated to heighten the comedy, Brinberg sings a collection of the popular ballads, The Way We Were, Don't Rain On My Parade and People linked with a wonderful patter, parodying the superstar's personality and idiosyncrasies.

Tomorrow and The Trolley Song sung in her style are a delightful surprise and Sondheim's I'm Still Here gives him an opportunity to elaborate on his remarkable range of voices. Accompanist Nathan Martin joins in for a charming rendition of You're The Top and in a remarkable show of dexterity, we are treated to an hilarious version of You Don't Bring Me Flowers. Some moments are truly magical when Brinberg's impersonation is spot on, such as in The Way He Makes Me Feel from one of her 17 movies, Yentl but there is much more mileage in gently making fun of her marriage, obsessions and reputation as a control freak.

by Paul Vale

The Stage filed Friday, 15 September 2006
http://www.thestage.co.uk/reviews/review.php/14141/simply-barbra
(Too2Much performance)
[ top ]
---

" Almost as luminous as Streisand herself...a remarkably fluid voice...a star of cult status has been born"

Sydney Morning Herald (Australia)

---

"Scintillatingly funny, unnervingly accurate. A touchingly true tribute to the towering talent (and ego) of Barbra Streisand. A genuinely original show that is brilliantly scripted and beautifully performed"

This is London (London, England)


[ top ]
---
The Times By Clive Davis (joint review with Karen Akers)

Steven Brinberg is also settling in for a couple of weeks in the West End. The idea of a male singer pulling on evening gown and false eyelashes in ordet to send up Barbra Streisand and her ego may sound too camp for words, but Brinberg's spoof is so on-the-button that any reservations soon melt away. If the "New Farewell Tour'' does not contain as much new material as we were promised, Brinberg still inhabits the role with eerie authority. Singer Paul Robinson did his valiant best to keep a straight face during his guest duet. Accompanied by pianist Nathan Martin, Brinberg takes delicious pot-shots at the Streisand legend. Although the voice is not as big (whose is?) he catches all the tics and mannerisms. His gifts as an impersonator mean we are also treated to the bonus of cameo appearances from the likes of Julie Andrews, Cher and an unbuckled Betty Buckley. So many stars in such a small space.


[ top ]
---

WHAT'S ON IN LONDON----Simply Barbra----Jermyn Street Theatre

Having appeared here briefly last year, Steven Brinberg returns to London following a sell-out tour of Australia in his stunning homage to Barbra Streisand.

How come a man is better at this sort of thing than a woman? Women 'do' Streisand but somehow they never seem to capture the real Barbra in the way that a Jim Bailey or Steven Brinberg can.

Bailey, however, always seems rather more serious about 'being' Streisand or Judy Garland or Peggy Lee et al, whereas Brinberg seems to be saying it's just a bit of fun.

But what fun (and he couldn't be more timely. He arrives just as Streisand has released the Timeless video and DVD of her final public performance at the MGM Grand on New Year's Eve 1999. So, if we are to be denied seeing the real thing in the 21 st century, we still have Mr Brinberg to be going on with.)

Slmply Barbra is sub-titled 'The New Farewell Tour' and, like Timeless, is a trip down memory lane in a reverential but scurrilous tribute to one of the great voices of the last century. Both aurally and visually Brinberg manages to be Barbra in an astonishingly good imitation in which the actor actually seems to inhabit the body of Streisand. He catches perfectly not only the singer-actress's mannerisms, but also her temperament too.

'She' reminisces about the good times and the bad, wondering why she didn't get asked to do Annie and the act is punctuated by songs sung so much in the Streisand style ('The Way We Were', 'The Nearness of You', 'It Takes a Woman' etc) that you'd think you were witnessing the great artist herself. There are references to James Brolin, her new husband, and what he thinks of her a la Sondheim ("In Brolin's eyes I'm young, I'm beautiful'), but it's all done in exquisite good taste.

Mr Brinberg is no mean imitator and he peppers his Barbra impersonation with other great musical ladies: Cher, Eartha Kitt, Ethel Merman, Bette Davis, Carol Channing, Julie Andrews, Sarah Vaughan, Bea Arthur and Katharine Hepburn etc. Al these legends are grist for Steven Brinberg's mill and his wicked sense of humour leaves you asking for more.

Don't miss.
MICHAEL DARVELL


[ top ]
---

Steven performed as Simply Barbra on Sally Jesse Raphael and received a standing ovation! Incredible job, Steven!! (Appearance date: April 24, 2002)


| HOME |

| TOUR | | AWARDS | | BIO | | PICTURES |

| DISCOGRAPHY | | VIDEOGRAPHY | | REVIEWS |

| CONTACT STEVEN | | LINKS |